If your company is using QuickBooks Online for accounting, you can create and manage invoices from Matter365. To open the invoicing page, select
Accounting
in the main menu on the left-hand side, and then click on
go to Invoices
link.
Matter365 accounting page
All of the invoices on this page are sorted by their transaction date (creation date), but they can be sorted by any other column. You can also filter them by a specific client, matter, their payment status (open, paid, overdue), delivery status (draft, sync, sent), or with a start date/end date filter.

Matter365 invoicing page
Delivery statuses explanation:

Draft – this invoice exists only in Matter365, it's probably going to be modified a bit more before sending out to the client.

Sync – this invoice exists both on QuickBooks and in Matter365. It's not yet sent to the client, and it can be modified if necessary.

Sent – this invoice exists both on QuickBooks and in Matter365. It's delivered to a client, so it can't be further modified.

Creating and editing invoices

To create a new invoice, use Create Invoice button that can be found on the invoicing page, time tracking page or expenses page.

Create Invoice button on invoicing page
Same as it is on QuickBooks, the invoice creation page slightly differs for US and CA users. US users can choose if each of their invoice lines is taxable or not, and they apply a single tax rate to those that are taxable. On the other hand, Canada users can apply different tax rates to different invoice lines on the same invoice.

Invoice creation page - US version
Invoice creation page - CA version
In both versions, filling in invoice info starts with selecting a Matter. On Matter selection, all client information that you already have in Matter365 will be filled in automatically (Client's name, email, address details).
Choosing a Matter will populate client info
You can also Customize Invoice Numbers.

For the feature to work you will have to adjust the Custom transaction numbers setting in your QuickBooks Online.

Open your QuickBooks Online,

Go to "Settings" ⚙ and select "Account and settings"

Select Sales

In "Sales form content" select "Edit ✎"

Turn "Custom transaction numbers" ON

Select "Save", then select "Done".

After you have turned the "Custom transaction numbers" setting on you will see a new field when creating an Invoice in Matter365:

The "Invoice number" field will let you customize Invoice numbers to your preferences:


If you have entered an Invoice number that already exists you will see this message:


If you have both Home and Business addresses available in contact info for your client you can easily switch between them by toggling the Switch Billing Address button:

Switch address button
You can choose invoice date and due date manually, or apply any of the existing payment terms you have created on QuickBooks (e.g. Net 30, Net 60…). You can also use the button Add new term to create a new rule that will be saved for you to reuse in future occasions, and available on QuickBooks as well.

Applying payment terms
You can also set a Default Payment Term that will be automatically populated for each new Invoice you create.
To set the Default Invoice Term go to
Settings > QuickBooks Online integration: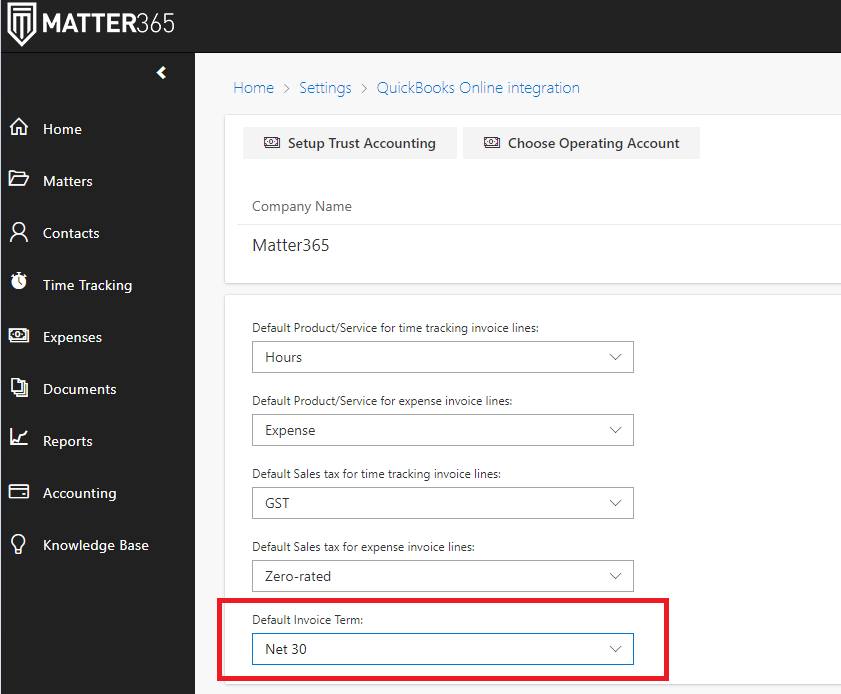 And select the Payment Term that suits your needs. Once selected it will show up as a default value in each new Invoice you create.
To add invoice lines, use Add activity button. A dialog box will show, and all unbilled activities for that matter (time trackings and expenses) will be shown in a dropdown menu. To add them all in one step, just click on Add all button. Activities will be added by date, descending. Otherwise, select one activity from a dropdown and click Confirm. Later on, you can sort out the activities by date.

If you still haven't created an activity you want to bill for on this invoice, use
Create activity
button and create a new time tracking or an expense related to this matter you are creating an invoice for.
Adding activities to an invoice
Once the activity is added you can also select an option from the
Product/Service
menu for that item. Simply click on the Product/Service drop-down menu. The contents of this dropdown menu are taken from your QuickBooks account. You can add new options or manage existing ones in QuickBooks
( In QuickBooks go to Settings, Product and Service and then add a new value).
Product/Service drop-down menu
You can also set the default Product/Service value for your invoices and change them from the drop-down menu if needed.

To set the default

Product/Service values go to
Settings > QuickBooks Online Integration.
Choose a default value for time tracking invoice lines and a default value for expense invoice lines:
Choosing the default product/service values, from available values set up in your QuickBooks account.

You can choose what information you want to show in time tracking and expenses invoice lines.

Go to
Settings > QuickBooks Online Integration
and select the information you wish to show on invoices.
While adding invoice lines to an invoice, the description will automatically contain this piece of information.

Different formats available for time Tracking and expenses line description




For
Canada
companies, you can set a
default sales tax
for your invoices.
Once you set the default tax for time trackings and expenses it will automatically be added to the new invoice lines. Go to Settings > Quick Books Online integration and select default sales tax from the drop-down menu.

Both US and CA companies can apply a discount to their invoices, either in a specific amount or specific percentage.


When adding discounts make sure that you have a Discount given account enabled in Quickbooks.

If you don't have that feature enabled you will get an error message: "No discount account found on QuickBooks"

To enable Discount account in QuickBooks you have to turn the discount feature in your QuickBooks account:

Select Settings ⚙ and then Account and Settings.




Select the Sales tab on the menu




In the Sales form content section, select the pencil ✏ icon to edit it.




Select the Discount checkbox to turn it on.




Then select Save and then Done.



That should create a default account named "Discount given account". If it's not created you can add an account, the name can be anything you want but it's important that the account type is "Income" and detail/type needs to be"Discount/refunds given".

Expenses you add to an invoice might contain attachments to them. You can choose if you want to attach those files to an invoice you will sync with QuickBooks. If there were more attachments for the same expense line, you can click on an arrow to expand the list of them, and select all of those you want to be attached.

When you're adding a new expense to Matter365, there are amount field and tax field to be filled in. When an expense is added to an invoice, those two amounts are summed up and displayed as the amount of that invoice line. Have this in mind while taxating invoice lines that contain expenses.

Adding attachments, sales tax and discount
After all invoice items you need are added, taxes, and discounts selected, you can choose to add an invoice message or statement message.

Insert Trust Account info is a button that will generate a helpful message on the invoice, stating previous Trust Account balance, amount to be used, and balance left after this invoice is paid from Trust.


In cases when a Matter you selected doesn't have a Trust Account created, this button will be disabled.

To save the invoice only in Matter365, with plans of editing it further, click Save draft. To save the invoice in Matter365 and also sync it to QuickBooks, click Sync to QuickBooks.


While syncing the invoice, if a client from that invoice isn't already created on Quickbooks, Matter365 will create him for you.


What to do if you get an error message from the picture below?
This error happens because Quickbooks does not support creating a customer with the same name as existing vendors or employees. When creating an invoice through the Matter365 app, the app itself creates a customer in Quickbooks with the same display name as the client on the matter. Re-naming the vendor or employee in question in Quickbooks should resolve this issue.

Finishing invoice creation
All invoices that are in Draft delivery status can be synced to QuickBooks on a click of an arrow button on the right side of the invoice row in the invoices table.

All invoices that are Synced, can be sent to the client's email address on a click of an envelope button on the right side of the invoice row in the invoices table.

All invoices in Draft or Sync status can be edited (pencil button)or deleted (trash can button).

Invoice delivery statuses and actions

You can use Work in progress report to generate
batch Invoices for all Work in progress Matters
, see more here:
Work in progress report
There is also an option to set up an Operation account.

You can now set up an operating account separately, and you can do it from the Invoicing page or from Settings -> QuickBooks Integration -> Choose Operating Account

Operating Account
Recording payments

To record a payment made on any of the invoices present in the list, simply select the invoice(s) you want to mark as paid and click on Record payment button.

Recording payment of the invoices
A dialog will show, and in it, you can choose Payment Method (Cash, Cheque, Credit Card or Direct Debit) and a Payment Option (Regular payment or Applying Trust funds).

You have the option to do a Partial Payment, while recording the payment you can edit the amount that is being paid (you can do this from the trust acounting page as well).

Also, you can add a Payment memo.

Payment memo and partial invoice payment

In cases when an invoice is created for a Matter with no Trust account associated, the payment option dropdown will be disabled, and the only option available will be Regular payment.

In this dialog, you can also choose to change the payment date. When you're done with editing payment details, click Confirm.

Recording payment details
We established 2-way sync with QuickBooks - This will allow you to receive payments outside of Matter365 and still have the correct invoice data in Matter365. Invoice properties that will be synced are unpaid amount, invoice status, and payment date.


Invoice sync happens once every 5 minutes.

To export, select invoices and click Export.

Exporting invoices to Excel file

This action will generate and download an Excel file with the selected invoices as rows and the same columns as displayed on Matter365 invoicing page.