How to allow external senders to a Matter group email?
Each Matter has its own email address. You can view the email address in the Matter's Dashboard in the "Matter Details" Tile.
By default Microsoft doesn't allow external senders to group emails.
To change that setting please follow these steps:

Select the Matter group in Outlook, and go to Settings: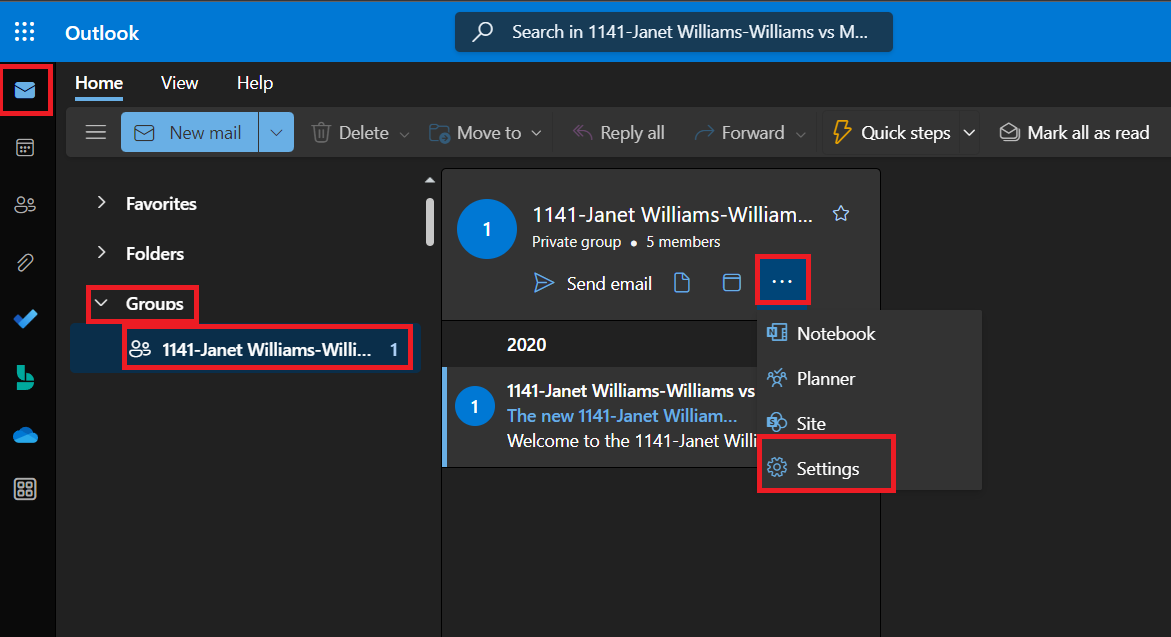 Make sure to select the option to "Follow in inbox", this will allow external sender to send emails to the Matter group email: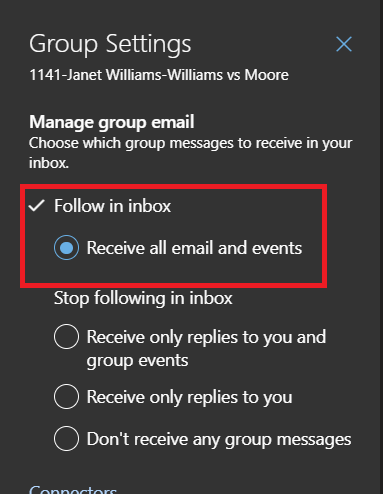 Related Articles

Document and Email Settings

You can choose the default behavior for opening all Office documents in Matter365 and actions that will happen while you're storing an email in Outlook. To do that, go to Matter365 app settings and select Document and Email settings. Matter365 ...

How do I edit a Matter?

To edit a Matter, click Settings -> Edit. That will take you to the Matter settings page. On the Matter settings page, Matter owners can change Matter general info like description, status, type, source, etc. They can manage external Contacts ...

How do I delete a Matter?

To delete a Matter, you must "close" the Matter first. On the Matter Dashboard, go to the matter click Settings and then "Close". When you close the Matter, you will be automatically redirected to the Closed matters page. You can delete the ...

Matter Management

Matter management is the core of your business. In this article, we will explain how to make the most value of our matter-centric approach to it and how to best utilize Matter365 and Office 365 features. Creating a Matter To create a new matter from ...

How do I create a new Matter?

You can create a new Matter from any page of Matter365 application by using the shortcut from the application header ("+" in the upper right-hand corner). Additionally, on Matters page, you can click "Create new Matter" button. In both cases, ...