How do I add a user to all matters?
You can choose to add a user to all matters.
This option is available only for the tenant admin.

You will find this option under Settings > Manage users:


Select the User, the role they will have (Owner or Member), and to which matters you wish to add that user to (All, Active, Inactive):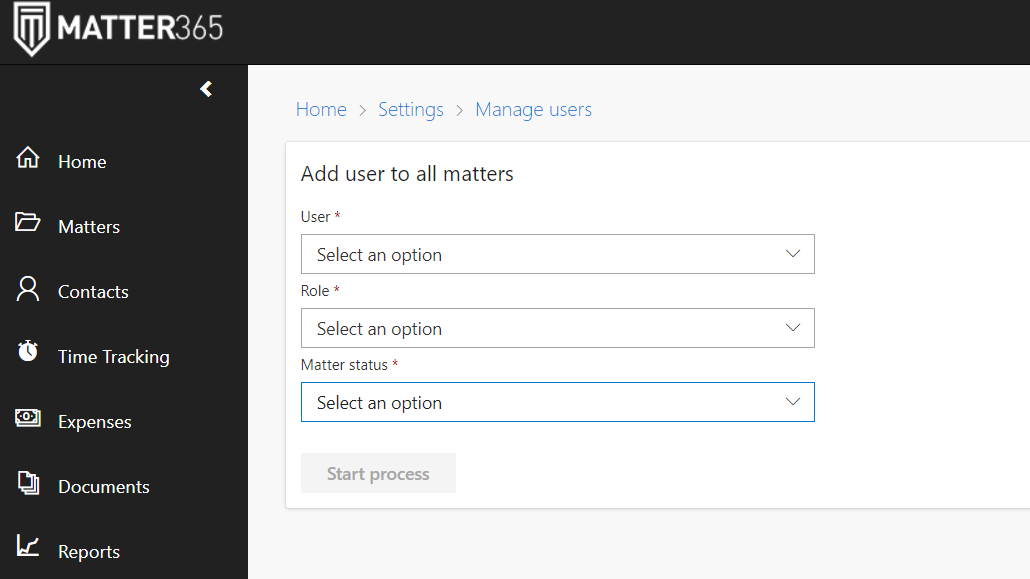 Related Articles

How do I add clients and related Contact to Matters?

To add clients or related Contacts to Matters, when on the Matter's Dashboard, click on Settings -> Edit Once you are on the Settings page click "Edit" in the Contacts section. Edit Matter Contacts window will pop up. Click on the "Add ...

How to install the Outlook add-in?

If you are an Office365 Administrator and you want to deploy the Matter365 add-in for all users check out this article: Add-in installation guide If your Office365 Administrator already deployed the Outlook add-in you can add it to your Outlook by ...

Migrating Matters

Matters can be imported to Matter365 by filling in the sample Excel file with Matter information. Some of the details that will be required for creating new Matters are client name, Matter type and Matter source. Make sure to already have that data ...

How to use the Outlook add-in?

In the desktop version of Outlook, the add-in can be accessed through the Quick Access Toolbar. For the add-in to show up you must select an email: In Outlook online, you can access the add-in while reading any of your emails, or while drafting a ...

How do I add an event to a Matter's Calendar?

Each Matter has its own email address. You can view the email address in the Matter's Dashboard in the "Matter Details" Tile. Clicking on the email will copy it to your clipboard. When you want to add an event to a Matter's Calendar, you create ...